SSTA
The challenge
The client has three offices distributed at various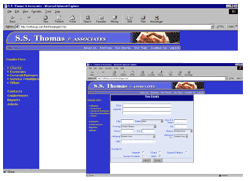 parts of the US. They had an existing content management system created using MS Access which allowed each branch to have a localised database. The challenge was to make a common database whereby information could be shared across the offices, avoid replication of data and thus, improve business efficiency. The database that they had built up over the years had to be cleaned and ported to a central database.
Since SSThomas & Associates is an investment broking firm, they needed their contact information to be seggregated into Clients and Investors and required the capture of multiple set of contacts per firm.
The solution
Infofin created a centralised database structure which allowed multiple users to work simultaneously and enter information into the system via the Internet. The system was created using JSP pages, Jonas as the EJB server and Sybase for the RDBMS.
The features available are:
Information capture screens for company and contacts information

Screen to capture information on notes prepared after each client meeting. This includes dates for subsequent followups.

Rich reports for the display of this information. Call reports generated for clients created from the information stored in Notes.

Advanced search facility to filter the data.