Chanakya
Overview
Chanakya is a powerful decision support system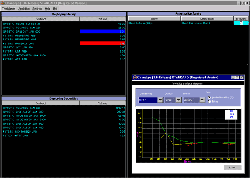 meant to aid investors in detecting investment opportunities. The software detects opportunities to make risk-less profits between the spot market and the derivatives market either by deploying money or deploying securities. The software affords the user the flexibility of choosing his brokerage costs, financing costs and the minimum returns he is interested in getting.
A host of other features like Portfolio analysis, Speculative alerts, Market watch, Implied volatility calculations and graphical displays of Implied volatility make it a comprehensive decision support software for derivatives trading.
Features
Chanakya provides the following features:
Real-time detection of arbitrage opportunities between the spot and futures market and the spot and options market.
The user can select the minimum rate of return that interests him, both in case of deploying of funds and deploying of securities. He can also select the securities he has in hand to deploy in the market.
The user can input his transaction costs in the spot and derivatives market as well as his cost of financing.
A thorough explanation of how each of the opportunities can be encashed can be viewed by simply clicking on the displayed opportunity.
The user can view the Bid and Ask price of the underlying and the Bid and Ask price of all the derivative contracts based on the underlying on a single screen.
The software does real-time calculation and displays implied volatility for all contracts based on the underlyings.
The software gives a Summary Statement of the Market View of Volatility for each underlying for all three months based on the `Tightest Bid-Offer pair' and `At-the-Money-Strikes' method.
The software gives a graphical representation of the price and implied volatility for all contracts based on the underlying.
The user can construct his portfolio and analyse its performance in real-time. The software gives the expected profit from the portfolio, calculates and displays the Greeks and plots the pay-off profile and the profit versus volatility diagrams for each underlying.
Using the speculative alerts the user can construct complex mathematical expressions using a variety of functions on the contracts in conjunction with arithmetic and logical operators. The software alerts the end-user whenever the criteria specified in the speculative alert is fulfilled.
Benefits
Real-time detection of opportunities for making risk-less returns, thus saving on man-power and cost.
Complex mathematical calculations and graphical representation of various parameters can be done in real-time.
The user can observe the Bid and Ask prices as well as the volatilities of the Bid and Ask prices of all the contracts on a given underlying in a well-arranged format which is easier to understand and grasp.
Applications
The ability of the system to handle and process data in real-time and to throw out investment opportunities makes it an ideal system for securities broking houses and financial institutions who are interested in trading in both equity and derivatives markets.

Clients